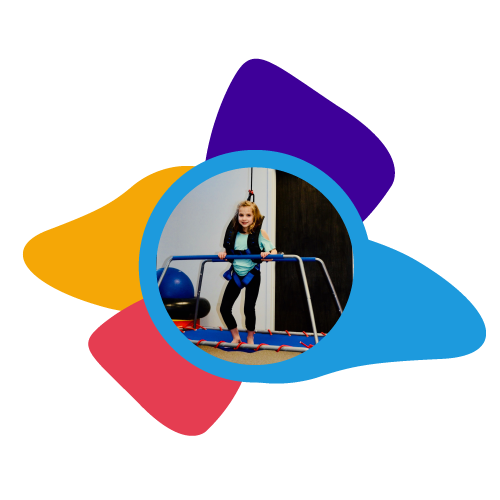 Confidence And Freedom To Take Steps Independently
We are excited to offer a Solo-Step track system in our clinic. This track system helps patients with a wide variety of gross motor impairments. Solo-Step provides individuals with a safe and secure environment to focus on weight bearing, balance and independent ambulation skills. Children with lower extremity prosthesis, cerebral palsy, muscle disorders and various other conditions that cause a delay in walking could benefit from this system. The harness allows the child to be in a weight bearing position which stimulates bone density growth, improves respiratory health, bowel and bladder function, as well as increases circulation and muscle growth.
With the security provided by the harness the child is held in an upright position which will allow them to be able to focus on improving balance skills without the fear of falling. With the Solo-Step system you will be able to break down all of the parts of an appropriate gait pattern to learn the most effective way to walk. For children who have are not walking, this system will give them the confidence and freedom to take steps independently.