PHYSICAL, OCCUPATIONAL, SPEECH THERAPIES
CHILDREN FROM BIRTH TO 18 YEARS OF AGE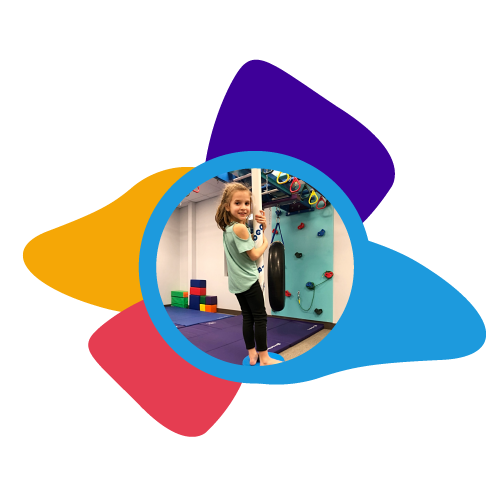 Collaborative Approach
At Handprints and Footsteps Pediatric Therapy, we offer physical, occupational and speech therapies to children from birth through 18 years of age. Our therapists provide a collaborative, multidisciplinary approach to treatment. Treatment can take place in our clinic or the child's "natural environment," including home, daycare, preschool and other community settings. For services outside of the clinic, we are currently only able to provide those to families in specific geographical areas due to therapist availability. The majority of our sessions take place at our physical location in Charlotte, NC.
15 MINUTE FREE SCREENINGS
TO HELP DETERMINE WHETHER YOUR CHILD MAY BENEFIT FROM FURTHER EVALUATION
Children with the following delays/disorders can often benefit from occupational, speech and physical therapy intervention:
Typically developing children with difficulty in one or more areas of school performance
Autism
Developmental Delays
Handwriting difficulty
Fragile X
Vision issues
Neurological conditions
ADD/ADHD
Down Syndrome
Sensory processing disorder
Birth injury/birth defect
Prematurity-related conditions and delays
Traumatic injuries
Muscle/sports injuries
Chronic illness
Specific learning disabilities
Microcephaly
Feeding difficulties
Auditory processing disorder
Expressive and receptive language delays
GETTING STARTED
You will need to bring the following items to your first visit:
3
Insurance
Bring Insurance Cards
6
Physician's Order
Signed and dated physician's order for the requested therapy service.
Our Stories
Hear from our clients and their stories!
"Our son has been fortunate to work with an OT, PT and SLP at Handprints & Footsteps.  It has been so nice that it could be a one stop shop for our family. They each have been amazing therapists to work with and they each bring a valued perspective to our son's growth and development.  It has been nice to be able to work with therapists who work so closely together as we could bounce our thoughts and ideas off of each of them and they could each connect on the progress our son was making.  We have also been able to build strong relationships and bonds with our therapists. Our therapists have supported us through many of the challenges we have experienced with parenting a child with extra needs.  They have been a strong backbone as we have needed support and training for teachers and they are often our go to texts or calls when we have one off questions regarding our son's development. It has been vital to us to feel like we had extremely qualified therapists that were vested in our son's development."
Carman G.
"Lisa and Jen have been my son Evan's therapists for eight years.  They both have been comfortable and confident treating a very medically complex child.  Initially, they worked on head control and rolling over. Today, he is crawling independently, pulling up to stand and walking with his gait trainer.  He can manipulate toys with both hands and will even touch play dough now! Through the ups and downs of his various special needs, Lisa and Jen will monitor and adjust therapy sessions and help get Evan the equipment he needs."
Melody K.
"Kerri has been working with our 3 year old son for about a year now. Her bright and cheerful attitude can  open up a child even on their most difficult day. In the time she has worked with our son, we have seen growth and abilities we only dreamed about. Her wealth of knowledge and patience has been a blessing to our family."
Brittany H.